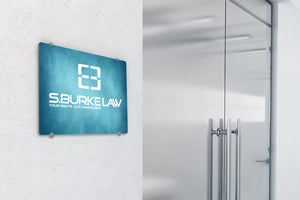 Upgrade your space with vibrant and striking Custom Glass Signs. Your logo has never had it so good!
Your images are custom-printed directly on tempered glass for beautiful saturation and clarity, making your logo look as exciting and vibrant as we hope your company is. (And if it's not, consider this sign a start to amping up your company's culture!)
●  1/4" ultra-clear, low-iron, tempered glass
●  Custom printed image
●  Optional metal backing for magnetic function
●  3/4" flush-mount, brushed stainless steel standoffs
●  Easy-to-use mounting template & hardware
Note: Want your sign to be magnetic? See our custom-printed magnetic glass whiteboards.
Pricing
(rotate phone to view on mobile device)
| | | | | | | |
| --- | --- | --- | --- | --- | --- | --- |
|  Item # (5R) | Size | 1 | 10 | 25 | 50 | 100 |
| XYZ-W060 | 13.5" x 18" | $103.40 | $98.23 | $94.09 | $90.99 | $87.89 |
| XYZ-W061 | 18" x 24" | $153.93 | $146.23 | $140.07 | $135.46 | $130.84 |
| XYZ-W062 | 2' x 3' | $246.48 | $234.15 | $224.29 | $216.90 | $209.51 |
| XYZ-W063 | 3' x 4' | $433.29 | $411.63 | $394.31 | $381.30 | $368.30 |
| XYZ-W064 | 4' x 6' | $813.62 | $772.95 | $740.40 | $715.99 | $691.59 |
| XYZ-W065 | 4' x 8' | $1,052.70 | $999.98 | $957.95 | $926.37 | $894.79 |
Other Information
Set Up Charge: $50/V
Lead Time: 7-10 days from final art approval
Imprint Type: 4-color process. All PMS colors will be converted to CMYK and may not always be an exact match