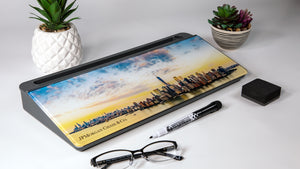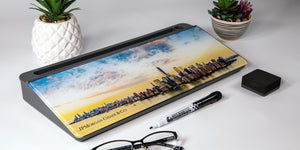 Custom Glass Desktop Doodle Trays
Get organized with a Custom Glass Desktop Doodle Tray!
Your custom image is printed on the back of crystal-clear, tempered glass which opens up to reveal a handy organizational tray where you can store markers, paper clips, sticky notes, or whatever else your heart desires!
Place your Doodle Tray directly above your keyboard or wherever it's most convenient to take notes during a call, make a to-do list, brainstorm ideas, do some quick math, motivate yourself with inspirational quotes, or leave a note for a co-worker. The possibilities are endless!
With other bonus features, like bumper feet to allow a soft close and special slots for a marker and your phone, tablet, or other essential items, the Glass Desktop Doodle Tray will be your best office pal! 

●  1/4" ultra-clear, low-iron, tempered glass
●  Custom printed image
●  Opens for office storage
●  Bumper feet for a soft close
●  Angled for comfortable doodling
●  Rectangular slot to hold cell phones, tablets, etc.
●  Circular slot to hold your marker
● Dimensions 16"x7"x2"
●  Includes a black marker and a black 2" x 2" eraser
●  Available in white or gray
●  Optional add-on: 4-pack or 8-pack of markers
Pricing
(rotate to view on mobile device)
Item # (5R)
Size
10
25
50
100
250
500
XYZ-W286
Desktop Doodle Tray, Custom - WHITE TRAY
$36.60
$32.37
$31.28
$31.03
$30.35
$29.89
XYZ-W287

Desktop Doodle Tray, Custom - GRAY TRAY

$

36.60

$32.37

$31.28

$31.03

$30.35

$29.89

XYZ-W281
Set of 4 G-208 Marker Add-On
$2.35

$2.20

$2.13

$2.05

$1.98

$1.90

XYZ-W282
Set of 8 G-208 Marker Add-On
$4.46

$4.18

$4.04

$3.89

$3.75

$3.61

XYZ-W283
Small Eraser
$0.47

$0.44

$0.43

$0.41

$0.40

$0.38

XYZ-W284
Full-size Eraser
$1.83

$1.72

$1.66

$1.60

$1.54

$1.49
Set Up Charge: $50/V
Lead Time: 7-10 days from final art approval
Imprint Type: 4-color process. All PMS colors will be converted to CMYK and may not always be an exact match